News
What a beautiful time of year it is here at Holy Ghost Church. Although it has been more than 8 months since we have moved here, Pani and I are truly in awe at the beauty of our surroundings on this part-like property upon which our church stands. It is truly a little slice of Paradise . Hardly a day does not go by when we are not treated to the site of a myriad of animals who grace our presence, including deer, fox and rabbits and the nightly light show by the hordes of fireflies that live in the forest behind the Rectory. Walking the grounds, I am reminded of God's commandment to Moses to take off his shoes, because the ground he was standing on is Holy.

As Orthodox Christians it is our calling to be sensitive to the presence of God in our daily lives, and live our lives with an attitude of reverence and respect for His world and all those whom we encounter in our daily lives. The world viewed in this way becomes what it is intended to be, beautiful, holy and filled with Grace.
Today we ponder the the mystery of the Lord's descent into Hades, the place of the dead. Death, our ultimate enemy, is defeated from within. "He (Christ) gave Himself as a ransom to death in which we were held captive, sold under sin. Descending into Hades through the Cross ... He loosed the bonds of death" (Liturgy of St. Basil).

Today our focus is on the Tomb of Christ. This is no ordinary grave. It is not a place of corruption, decay and defeat. It is life-giving, a source of power, victory and liberation. Because of this we spend a lot of time in the Church today, celeraint Divine Liturgy and guarding the tomb all day.
We have come to the most difficult day of Passion Week. Today Christ's journey  becomes incredible difficult  and extremely painful  in these final hours leading to his death. Judas Iscariot, the disciple who had betrayed Jesus, was overcome with remorse and hangs himself early in the morning. 

Meanwhile, before the third hour (9 a.m.), Jesus endures  the humiliation of false accusations, condemnation, mockery, beatings, and abandonment. After many  unlawful trials, he is sentenced to death by crucifixion, one of the most horrible and disgraceful methods of capital punishment known at the time.
Today Holy Week takes a somber turn. From Bethany, Jesus sends Peter and John ahead to the Upper Room in Jerusalem to make the preparations for the Passover Feast. Later tonight after sunset, Jesus washes the feet of his disciples as they prepared to share in the Passover. By performing this humble act of service, Jesus demonstrates by example how believers should love one another. 
The Bible doesn't say what the Lord did on the Wednesday of Passion Week. Scholars speculate that after two exhausting days in Jerusalem, Jesus and his disciples spent this day resting in Bethany in anticipation of Passover.

Just a short time previously, Jesus had revealed to the disciples, and the world, that he had power over death by raising Lazarus from the grave. After seeing this incredible miracle, many people in Bethany believed that Jesus was the Son of God and put their faith in him. 
oving through Holy Week, we become more aware that the Church sees us as being the modern day disciples  (students, servants and co-workers)  of the Lord.   When we are taking part in today's services  ( and all of the services of  Holy Week)  as we listen to the scripture readings and hymns, let us understand that The Lord is speaking directly to us... and in love is giving us last minute instructions about what is expected of us as his disciples, the faithful members of the Church. 
Holy week has at long last come.This week is properly known in Orthodoxy as Passion Week, as we take part in the Saving Passion, Death and Resurrection of our Lord. We are blessed as Orthodox Christians to have such a participatory faith. We have the opportunity to re-live the final days of our Lord's life on this earth, not as students of history but as contemporaries through taking part in the Divine Services.

Today, Jesus, who had stayed in Bethany after his Triumphant Entrance into Jerusalem yesterday, once again travels to Jerusalem where he weeps over the city and its turning away from God.
It is hard to believe that the Lenten Season has come to a close and that we have embarked on the final leg of our journey to Pascha, that of Passion (Holy Week)

It has been quite a journey! With all of the joys and struggles, that one normally encounters during the Fast, we also been extremely busy with our weekly food sales and Easter Bazaar that has taxed our energy.

None the less, I have been pleased by the peaceful spirit which has permeated our parish during the Lenten Season. I have seen in the calm demeanor of so many of you the fruits of the three pillars of Lent at work in your lives, that of Prayer, Fasting and Good Works.
Are you as excited as I am? Lent is now under way!  Our Mother the Church offers us an amazing opportunity to change our lives for the better – to gain inner strength and peace and  experience much spiritual joy. She does this by encouraging us to make use of three powerful spiritual weapons during the Great Fast, that of  Prayer, Fasting and giving alms (doing good works). Regarding prayer… if you look at the schedule of services for this week,  you will see there are services every day and on Monday,  both morning and evening.  You will notice a new service this year, the Great Canon of St. Andrew of Crete on Monday, Tues and Thurs Evenings- a beautiful poetic hymn of repentance that serves as a wonderful diagnostic tool in helping us to see what areas of our life need attention.  We sing some beautiful melodies and respond over and over, "Have Mercy on Me O God, Have Mercy on Me."   And of course the beautiful Presanctified Liturgy on Wed and Friday evenings  ( fast at least 3 hours before) . And at home we have the opportunity to be stronger in our daily prayer life and in reading of  the bible and spiritual books. 
On Thursday February 7, 2019, Theresa Fakete fell-asleep-in-the-Lord peacefully.

Funeral Arrangements are as follows: Read More
On Thursday January 10, 2019, Patricia (Pat) Overdorf fell-asleep-in-the-Lord peacefully, surrounded by her family.

Pat a life-long member of Holy Ghost Parish served our parish well in many capacities including and not limited to member of the Parish Council, Past President of the Altar Society, Social Center Manager, Member of the Cemetery Committee, Coffee Hour Coordinator and Outreach Coordinator to St. Mary's Shelter, and needy families at Thanksgiving. She will be sorely missed by all.

Funeral Arrangements are as follows: Read More
CHRIST IS BORN! GLORIFY HIM!
Dear Beloved Brothers and Sisters in Christ, I greet you with joy and love in the Name of our Incarnate Lord and Saviour Jesus Christ. Let us give thanks to Almighty God, by whose grace we have been given the opportunity to celebrate the Birth of His Son. If we look around, we find hatred, mistrust, suffering, and the absence of peace and love in our homes, neighborhoods, cities, country, and in fact the whole world. This reality in life makes us cry out for God's help, assistance, and intervention.
Read More
CHRIST IS BORN! GLORIFY HIM!
CHRISTOS RAZDAJETSJA! SLAVITE JEHO!
On behalf of Pani Carol, Daniel, Timothy and myself, I would like to thank you all for your cards, gifts, prayers and best wishes on the Feast of the Nativity. We wish all of God's choicest blessings on the entire Holy Ghost Parish Family on this great Feast day and offer our sincere thanks Read More
Showing 1 - 13 of 13 Articles | Page 1 of 1
Prayer Corner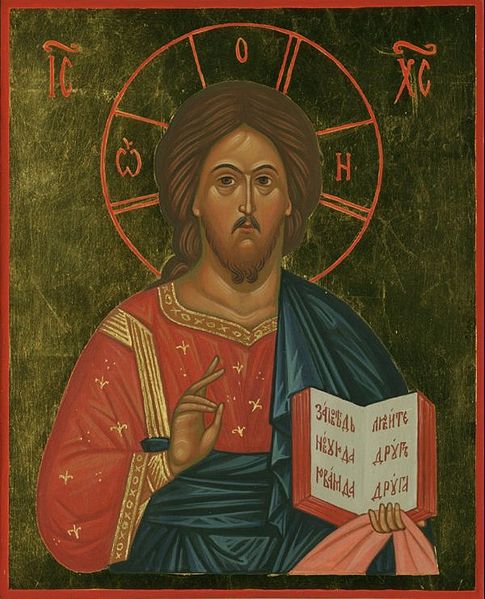 Listen To The Lives Of The Saints Commemorated Today
Visit the Prayer Corner for more daily readings, hymns, a monthly calendar of saints and feasts, and more.
---